Are you using an iPad ? You can easily sync your Google Contacts without using iTunes, using CardDAV. Google Contacts is a contact management tool by Google provided with its other services/apps like Gmail, Docs, Calendar etc. You can send email, schedule appointments, share documents using the Google Contacts feature provided in different apps.
Using CardDAV, an Internet open standard, you will be able to edit, add and remove contacts from iPad and keep them in sync all over the world. You can use iOS contacts app to sync your Google contacts which was earlier done by IMAP.
The following steps may be followed to sync Google Contacts with iPad without using iTunes.
Step 1 : Open the Settings on your iPad and select Mail, Contacts, Calendars. From the add account, select Others option.
Step 2 : Add your CardDAV account in the next screen.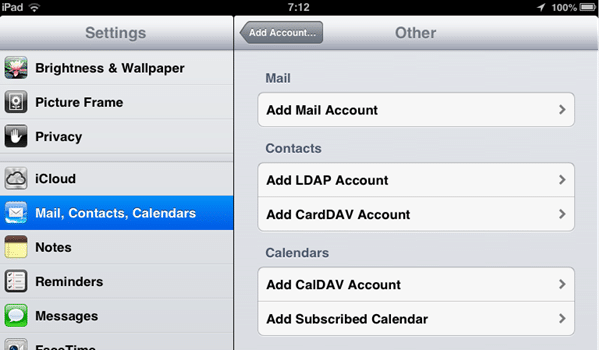 Step 3 : Now enter the following details in the pop-up window
Server: Enter "google.com"
User Name: Enter your full Google Account or Google Apps email address.
Password: Your Google Account or Google Apps password.
Description: Enter a description of the account.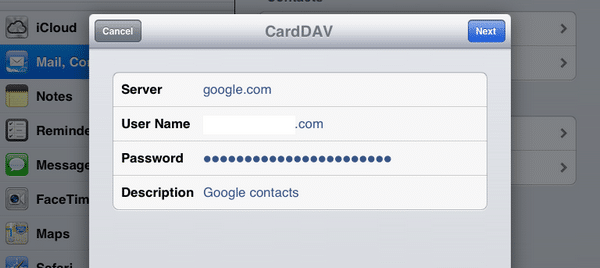 Step 4 : Click next and your account will be added in Mail, Contacts, Calendars. You can make this Google account your default account for Contacts.
You can also change the Sort Order and Display Order using the options in iPad. Alternatively if you want to use iTunes to sync your Google contacts, here's the procedure by Google. As you can see the process used by Google to sync contacts on your iPad with iTunes, has the following disadvantage. Only some of the information like People's names and job titles, company names, email and postal addresses etc can be synced with your iPad device.
While using CardDAV, though I'm not sure, will perhaps sync all your contact information in Google contacts. Please let me know in the comments, your experience in syncing Google Contacts with iPad without using iTunes and using iTunes.